Comments:

0
Post Date:

March 6, 2018
---
TrevNM17
The 6 Steps to Improve Business Profitability
Profit improvement is not a difficult concept, more revenue than costs equals a profit, less revenue than costs equals a loss.  So why do so many business leaders struggle with this apparently simple concept?
We believe it is partially because many business leaders cannot see through the "fog and noise" of the business and as a result get distracted from the basics, and they are basics.  When losses are mounting and cash is rapidly disappearing it can create an element of paralysis within business leaders.
Understand the levers you can pull…and focus on those specific areas.    When undertaking a profit improvement assignment, we start with a simple 6 step process to profit improvement. The 6 step process can be applied to any business, in any industry, in any country, through any economic cycle.
Create a Mission and Focus your entire team on it (you as well);
Increase customer numbers;
Increase the number of times customers buy;
Increase the average sales value;
Increase margins;
Reduce costs.
Step One is by far the single most important element, this is pivotal if done correctly becoming "Mission Focused" can dramatically change the performance of your business quickly.
Step's 2-6 are simply a matter of asking your team questions, how can we increase customer numbers?  How can we increase the average sales value?  Then create an action plan under each heading.
SMALL changes can lead to significant performance improvements.
Here's a model which demonstrates the impact of a 5% improvement across the profit drivers within a business: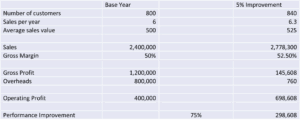 In this example we assume there are 800 customers of the business, buying six times a year and the average sale value is £500. So if you multiply the number of customers by the number of sales per year and average sale value, you will get gross sales turnover of £2,400,000 a year.
Let's say they are making a profit margin of 50% for every sale they make – generating a gross profit of £1,200,000 on that level of turn-over. If the overheads to run this particular business are £800,000 it will be generating a net profit of £400,000 per year.
By making a 5% improvement in each of the key profit drivers, we can increase the profit from £400,000 up to £698,608. So that's close to a £300,000 increase in bottom line profit, or a 75% increase in profit – all from a tiny 5% improvement plan!
Under the 5% improvement plan, instead of 800 customers, there will be 840 customers who will come and they buy 6.3 times a year and increase the average sale value from £500 to £525. The business turnover will increase to £2.8 Million dollars.
If we also increase the gross margin from 50% to 52.5% and reduce overheads by 5% we can generate an extra £300,000 profit for this particular business. So that's a massive increase in profit by making a very small change in the key profit drivers.
Every business is different and some of these 5% improvements might be difficult for your business to achieve but in saying that, there are probably some of these key profit drivers that can be increased by way more than 5%. Your profit improvement potential may be a lot different from the type of business we are looking at here. Every business has its potential.
In summary, use a Mission Focused Approach, engage your entire team and concentrate on the basics.
PLEASE CONTRIBUTE TO OUR STRATEGY RESEARCH

We are Strategy Execution Experts; we help clients' to pursue their most significant opportunities. Aligning operational strategy with organisational ambition is at the core of everything we do.
Combining strong analytical skills with clear operational focus, we use a unique mixture of facilitation, coaching and organisational consulting to help leaders achieve ambitious goals.